Why euCanSHare?
Despite continuous advances in diagnosis and treatment, cardiovascular diseases (CVDs) remain the main cause of death worldwide. CVDs account for about 17.9 million annual deaths1 – 31% of all deaths worldwide – and greatly reduce the quality of life of affected patients, challenging the sustainability of modern healthcare systems. In Europe, CVDs are responsible for 30.4% and 25.3% of deaths before the age of 65, in men and women, respectively.2

Many cardiovascular drugs have shown limited efficacy on general populations. Personalised medicine approaches offer solutions to improve risk assessment, early diagnosis and patient-tailored treatment protocols. Data-driven, multi-cohort approaches are needed to link molecular, imaging, functional and clinical data. However, such integration presents a formidable challenge in terms of data storage and access frameworks, interoperability and IT architectures, especially across diverse jurisdictions.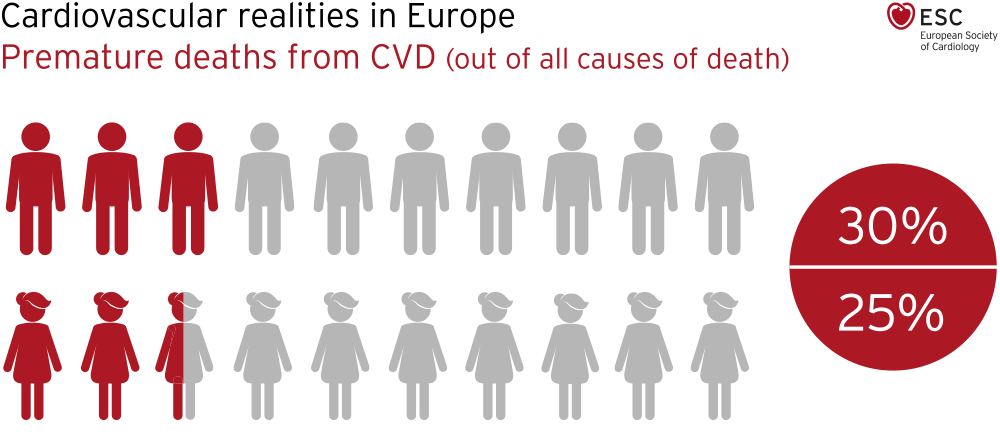 1 World Health Organisation (WHO), "Fact sheet on CVDs" (May 2017).
2 Timmis A, Townsend N, Gale C, Grobbee R, Maniadakis N, Flather M, Wilkins E, Wright L, Vos R, Bax J, Blum M, Pinto F, Vardas P.
European Society of Cardiology. Cardiovascular Disease Statistics 2017. Eur Heart J 2017; 39(7):508-579.
Our mission
euCanSHare is a joint EU-Canada project to establish a cross-border data sharing and multi-cohort cardiovascular research platform. Specifically, the project will integrate data infrastructures, IT solutions and data sources from EU, Canada and other countries into a web-based data access system with functionalities for increased efficiency in cardiovascular data-driven research. euCanSHare integrates more than 35 Canadian and European cohorts making up over 1 million records and actively seeks to expand to other regions.

euCanSHare key objectives are
implement a FAIR (Findable, Accessible, Interoperable and Re-usable) data platform for enhanced data sharing and big data research in cardiology
KNOWLEDGE
DISCOVERY
KNOWLEDGE DISCOVERY
leverage the power of multi-cohort and multi-omics data in personalised cardiovascular medicine, addressing image analysis and bioinformatics, biomarker identification and quantification, knowledge discovery and risk assessment
LEGAL
COMPLIANCE
LEGAL COMPLIANCE
apply legal frameworks to enable compliant data sharing across countries in line with Open Science tenets
COMMUNITY
BUILDING
COMMUNITY BUILDING
provide the euCanSHare platform with capabilities to extend over time and thus create the largest network of cohorts and researchers in cardiovascular personalised medicine for academia, companies and public authorities
Implementation
Phase I
(1 Dec 2018 – 30 Nov 2019)
Platform design, definition of user requirements and technical specifications
Delineation of the legal and ethical framework to allow data sharing across EU and Canada
Preliminary users engagement: definition of incentives to attract participants
Development of the first prototype of the euCanSHare platform for internal testing
Phase II
(1 Dec 2019 – 30 Nov 2020)
Implementation of platform interfaces and services, including user-designed functionalities, data harmonisation and analysis
Initial user tests and feedback gathering
First release of the euCanSHare platform within the consortium
Phase III
(1 Dec 2020 – 30 Nov 2022)
Four pilot-test research studies, feedback gathering and system refinements:

Two research studies on multi-domain risk predictors in cardiovascular disease, integrating imaging, genetics, lifestyle and sex
One public health study to compare risk estimates across countries and regions
One industry-relevant study on drug target discovery to adjust commercial platform requirements

Workshops with hands-on sessions to foster the expansion of the platform with new additional cohorts and users
Final deployment of the platform for the entire cardiovascular research community
Ethical and legal commitments
The partners and participating cohorts in the euCanSHare consortium will comply with the International, European and Canadian Legal Framework and relevant ethical standards and guidelines. In particular, the consortium will comply with relevant national and EU legislation and guidelines, including:
The Declaration of Helsinki in its latest version;
The charter of fundamental rights of the EU (2000/C 364/01);
The principles enshrined in the Oviedo Bioethics Convention;
OECD guidelines and policy on privacy and data sharing
Recommendation CM/Rec (2016)6 of the Committee of Ministers to Member States on research on biological materials of human origin.
EU regulation 2016/679 of the European Parliament and of the Council of 27 April 2016 on the protection of natural persons with regard to the processing of personal data and on the free movement of such data (GDPR);
Canadian Personal Information Protection and Electronic Documents Act, S.C. 2000 c. 5 (PIPEDA);
Canadian Tri-Council Policy Statement: Ethical Conduct for Research Involving Humans, Canadian Institutes of Health Research, Natural Sciences and Engineering Research Council of Canada, and Social Sciences and Humanities Research Council of Canada, December 2014.
Furthermore, the consortium will ensure continuing compliance and will take into account relevant revisions to the mentioned legislation and directives. Each partner and participating cohort will be held responsible for fulfillment of all legal and ethical requirements in its country. In addition, the partners and participating cohorts in the euCanSHare consortium will uphold the following principles to incentivize and promote data sharing and ensure the secure management of data:
Data minimisation principle
Informed Consent
Guaranteeing patient's confidentiality
Secure handling of data
Data anonymisation
Transparency
The partners and participating cohorts in the euCanSHare consortium are aware of their duties and are supported by the team of WP1 (Socio-ethical and legal interoperability analysis) and the external ethical & legal advisor, Maria Pilar Nicholas, to ensure that all ethical and legal requirements are constantly met.
Publications and materials
PRESS RELEASES AND EDUCATIONAL PUBLICATIONS